Glow In The Dark Star Ceiling Business Kit
AMAZING VALUE AT JUST $197 (inc. shipping) 
Many people are searching for something they can do as a part or full-time business and my 'How To Start A Glow In The Dark Cosmic Star Ceiling Business Kit' fits the bill perfectly.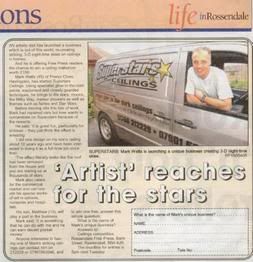 I have sold my business kit to people all over the world and it has enabled them to get up and running earning a fantastic income within a short space of time.
It is the perfect business to run if you're looking for something different to the run of the mill business opportunities out there. It's great fun and rewarding, not just from a financial point of view but also from the pleasure you get from seeing a young child's face light up in amazement.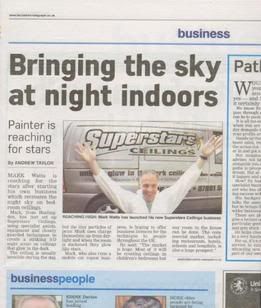 You don't have to be artistic or a dab hand at DIY. Once you have been shown the techniques and had a bit of practice you will be confident to go out and do your first star ceiling job.
I normally recommend that you do a couple of jobs free of charge anyway for family or friends to ease you into the business and to create some referral business.
The market is vast as practically every household is a potential customer. The majority of people have never heard of a cosmic star ceiling but they get excited when they hear about it, especially if they've got children or grandchildren.
The normal marketing methods work such as leaflets and newspaper advertising (as you can see I didn't have any trouble getting my local newspapers interested in my business) but the best source of business will come from word of mouth referrals. Once you've done a few ceilings and the kids have had their friends round and done sleep overs they'll want one doing too. I send you a copy of my current marketing leaflet and give you more tips on promotion as part of my star ceiling business kit.
What does my Star Ceiling Business Kit include?
I believe that my kit offers fantastic value for money for anyone thinking of starting up their own star ceiling business.
I have been creating star ceilings since 1995 and I have put everything I know into my 50 page information manual which includes a resource guide listing the best places worldwide to buy equipment and materials. You will receive a copy of my training DVD (NTSC or PAL) which shows me creating the effects together with a copy of my latest marketing leaflet and one of my special star applicators.
The package will be shipped within 2 days of receiving your order and you will be notified of the tracking details.
All you have to buy is a small supply of glow paints, a UV light unit (I tell you where to get the best ones), some dust sheets and a couple of other bits and bobs. You can quickly get up and running and get back your start-up costs and be in profit after just a couple of ceiling jobs.
How do I order a Star Ceiling Business Kit?
You can order a star ceiling business kit by clicking on the button below. It will take you through my secure Paypal checkout process where you can pay by credit/debit card or eCheque. You don't have to have a Paypal account to use the service.
If you have any questions before making your purchase please use my contact form.
If you have a Paypal account you can sign in as normal and make payment.
If you do not have a Paypal account it's no problem. Just pay with your credit or debit card as a Paypal guest.
ONLY $197.00 – Includes Shipping & Handling
Any problems email – mark@amazingstarceiling.com