Home
Watch Your Child's Face Light Up In Amazement!
When They See The Glow In The Dark Cosmic Star Ceiling You've Created
There is nothing better than seeing a look of wonder and amazement on a child's face.
Now Just Imagine For One Minute……you take your children to school or nursery first thing one morning and then you dash back home.
You grab the DIY instructions that I have put down in my downloadable eBook available on this page and then you start creating a fantastic glow in the dark star ceiling on your children's bedroom ceiling.
It takes you around a couple of hours and then you clear your bits of equipment and materials out and leave the room looking exactly like it did before you started. To look at the room there is nothing to give the game away about what you have done (even on the ceiling) and the fantastic surprise now awaits your children when they go to bed later on that day!
When it comes to bedtime, you act completely normal, closing the curtains and switching on the light as they are cleaning their teeth. You get them tucked up in bed and read them their current favorite story.
You kiss them goodnight and then as you gently close the door and switch off the light you hear:
OH WOW!
as they stare up in pure amazement at the Glow In The Dark Cosmic Star Ceiling that you created for them earlier in the day.
Their normal blank, boring ceiling has magically transformed into a beautiful sea of gently twinkling stars.
As well as stars there might be planets, the Milky Way, shooting stars, constellations, black holes………..and more.
They can't take their eyes off the star ceiling and they reach up to try and touch the stars gently twinkling above and as their eyes become accustomed to the dark they begin to pick out more stars that seem even farther away.
They are hypnotically taken to another world  and can't believe how talented you are.
Just imagine and feel the immense amount of pleasure it would give you to see your children so happy and amazed.
Well, today I can help you achieve this by showing you how to easily create a magical Cosmic Star Ceiling of your own and helping you to surprise your children with your amazing new skill.
What a transformation! From having a night light on to actually asking me to turn off the lights. Incredible. My daughter is now 5. I wish I'd bought your guide 5 years ago.
Anna S, Florida, US.
What is a Cosmic Star Ceiling?
Quite simply, a glow in the dark Cosmic Star Ceiling is created using small amounts of glow paint and some inexpensive and simple pieces of equipment. If you love doing things for your children, particularly 'out of the ordinary' things, then this is one of the most unusual and unique gifts that you can give them and the best part about it is that it is created by you personally.
My eBook will show you how to easily create stars, and if you want to be even more creative,  the milky way, planets and shooting stars. To make the star ceiling really personal for your children you can add their birth constellations too.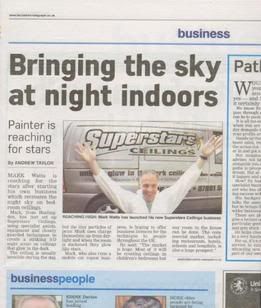 Cosmos star ceilings really are easy to do once you have read through the method and technique. If you are able to use a small stepladder to reach your children's bedroom ceiling (or any other ceiling you want to work on) you can easily create a fantastic star ceiling in a morning or afternoon and then be ready to surprise them later that same day.
All you have to do is simply prepare the room, follow my instructions and you're done!
Don't confuse this with those tacky glow-in-the-dark stars stickers that you can buy. They are made from cheap glow paint, are more often than not very dim and soon lose their glow. Your Cosmic Star Ceiling will glow gently for hours. Your children will more than likely drop off to sleep within half an hour or sooner but if they do happen to wake up during the night their cosmic star ceiling will still be visible and will help them gently drift off to sleep again.
If you're planning on giving your children's room a makeover but struggling for kids room decorating ideas this will help you get a great result.
The glow-in-the-dark stars will glow for years which makes this project fantastic value for money. However, should you need to paint over it for any reason then 2 or 3 coats of ordinary emulsion/latex paint will return the ceiling to its original state.
The best purchase I've made in ages. Did exactly what it said on the tin. I now have one very happy 6 year old who can't wait to go to bed. Many thanks
Clive W, Melbourne, Australia.
What is special about a Cosmic Star Ceiling?
Probably the most amazing thing about a glow in the dark Cosmic Stars Ceiling is that it is invisible during daylight hours.
INVISIBLE BY DAY – INCREDIBLE BY NIGHT
It will have no detrimental effect on your existing decor in any way. The ceiling will look exactly the same as it did before you started which is why it enables you to really surprise your children! As soon as you close the curtains and the turn the light off the ceiling comes to life and you can see all the Cosmic effects. Then, when you switch on the light or it becomes daylight again it magically disappears.
The cosmic effect is so relaxing. It really gives the impression that the roof has been removed from your home and you are staring up at a beautiful night-time sky – your own personal Cosmos.
Children are absolutely fascinated by them. The soothing glow from the stars can help those children who are afraid of the dark actually go to sleep with their light off as they act like a night light. They are also of great benefit to children with autism/asperger syndrome as they are attracted to the colours and effects and it gives them something to focus on.
My daughter suffers from autism and wakes up frequently during the night. Her new starry ceiling really helps relax her and help her drift off back to sleep.
Rose B, Wichita Falls, Texas.
What will you learn?
My step-by-step glow in the dark star ceiling DIY guide (available as an immediate download) will walk you through each stage including:
What items you need (you will already have most of them at home now)
Where to get the few remaining items
How to set up the room prior to starting
Where to begin and in what order
How to achieve the amazing effects
What not to do (very important)
Everything is contained within my step-by-step guide that will enable you to create a Cosmic masterpiece that will truly amaze your child.
It is written in plain and easy to understand steps that can teach you how to create a fantastic Cosmic Star Ceiling even if you have no artistic ability whatsoever or have never picked up a paintbrush in your life before. I'm talking painting-by-numbers easy!
What's more you will have great fun doing it too.
We're not talking about spending a small fortune either as creating a Cosmic Stars Ceiling is affordable on nearly any budget. Plus, once you've done one there's nothing stopping you doing other rooms in your house or for your friends/neighbours. You may even decide to turn your amazing new skill into a business (I can help you there as well).
I first started creating Cosmic Star Ceilings back in 1995. Since then, I have become a full-time ceiling 'Startist.'
I love what I do, and I love hearing from the happy moms and dads who tell me about the exciting moment when their child saw their new star ceiling for the first time.
Now, I'd like to share that extraordinary excitement with you.
How To Paint Your Own Amazing Star Ceiling In A Single Afternoon – Even If Your Artistic Ability Is Finger Painting!
How to Create Your Own Amazing Cosmic Star Ceiling is available as a downloadable guide and will take you from start to finish by walking you through the planning, preparing, designing and then painting of your own star ceiling in just hours – not days.
Your finished star ceiling is guaranteed to look absolutely stunning – even if you've never picked up a paintbrush.
ONLY $14.99 – To Put A Big Smile On Your Child's Face
You don't need to open a Paypal account to buy. Just use your credit or debit card. You will get the download instructions at the end of the Paypal transaction. Any problems email
mark@amazingstarceiling.com
You'll be looking forward all day to watching your children's faces light up at bedtime when they see the night sky come to life above their bed.
You can have my new DIY guide "How to Create Your Own Amazing Cosmic Star Ceiling"  in minutes.
PS: If for any reason you don't see the immediate download instructions don't worry. As soon as I see your payment I will email you the instructions.